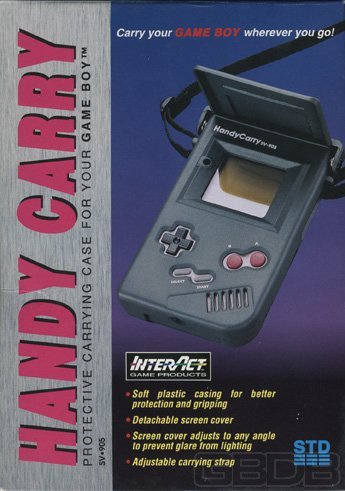 Handy Carry
Manufaturer: InterAct
Release Date: 01/01/1992
Part #: SV•905

GB Model: Game Boy
Power: NA
Batteries: NA

Description
This is probably the best case available for the Game Boy. The Handy Carry is basically a rubberized plastic shell that fits a Game Boy like a glove. There is an integral screen protector which is removable, and also doubles as a sun screen. A thin plastic straps rounds out the case.
I say this is probably the best Game Boy case because it does a great job protecting your Game Boy while not adding all that much bulk. That is downfall of almost all Game Boy accessories. The accessories designed to make the Game Boy easier to use add all sorts of bulk, which negates the number one reason for the Game Boy, PORTABILITY!
That does not mean this case is perfect, though. It is hard as hell to get a Game Boy into, or out of, this case, due to it's form fitting nature. Also, the thin strap doesn't fill one with confidence that it will hold for very long. You also get the sense that you're carrying a purse while this is slung over your shoulder, which can be a problem for the more masculine Game Boy players.