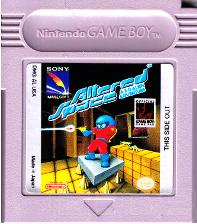 Altered Space: A 3-D Alien Adventure
Publisher: Sony (Imagesoft)
Developer: Software Creations
Release Date: 09/01/1991
Variants: No
Part #: DMG-AL-USA

Genre: Adventure
Players: 1
Multiplayer method: NA
Super GB support: No
Saves: None

Box back
They never talked about being captured by aliens back in Astronaut School......

So what's an astronaut supposed to do? Why, escape of course, which is exactly what Humprey the astronaut sets out to do. He must make his way through the alien ship (over 250 rooms, all different, all dangerous) to reach an escape pod and return to Earth. Aliens, droids, and tricky traps are waiting for him. He's counting on YOUR help.

Altered Space features a unique 3-D viewpoint and stereo sound for you adventuring enjoyment. You may never want to return to Earth.