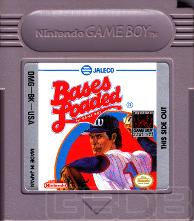 Bases Loaded
Publisher: Jaleco
Developer: Jaleco
Release Date: 07/01/1990
Variants: No
Part #: DMG-BK-USA

Genre: Sports
Players: 2
Multiplayer method: Game Link
Super GB support: No
Saves: None

Box back
Runners are at the corners with one out.
The tying run dances off of third, daring you to pick him off.
It all comes down to this-you versus the Pro team's cleanup hitter.
But you've got one more trick up your sleeve.
You make the wave to the bullpen and call in Myer, your team's ace reliever.
The batter adjusts his stance as Myer looks in.
It's the best versus best in a clasic late inning confrontation- just an example of the excitement awaiting you in...
Bases Loaded
Notes
"classic" spelled incorrectly on box