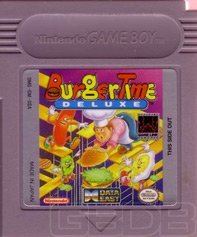 Burgertime Deluxe
Publisher: Data East
Developer: Data East
Release Date: 03/01/1991
Variants: No
Part #: DMG-GM-USA

Genre: Arcade
Players: 2
Multiplayer method: Game Link
Super GB support: No
Saves: Passwords

Box back
BURGERTIME™®
Your chef is battling for his life in the fast-paced world of fast food. He scurries up ladders and across planks in a frantic effort to build delicious hamburgers. Horrible hot dogs, evil eggs, and perilous pickles constantly try to surround and trap him. Dust those nasties with a pinch of pepper and stop them in their tracks. Gulp some coffee or gobble some fries and you store some extra pepper. Get through the seventh maze and you are a certified burger-maniac.
1 or 2 can play.


Three kinds of nasties - pickles, eggs, and hot dogs


You start with 5 Chefs. Get another for each 10,000 points you score.


Score points by dropping buns, lettuce, tomatoes, and patties. Rack up the big points by squashing the nasties or better yet giving them a ride down on a falling ingredient.


Seven mazes requiring inventive strategies to master.


A visual feast for the computer game gourmet!