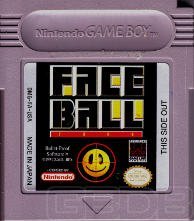 Faceball 2000
Publisher: Bullet Proof Software
Developer: Bullet Proof Software
Release Date: 12/01/1991
Variants: No
Part #: DMG-FA-USA

Genre: Action
Players: 4
Multiplayer method: Game Link
Super GB support: No
Saves: None

Box back
Welcome to the exciting new world of FaceBall 2000, where 3D graphics, first person perspective and 360° maneuverability put you and up to three friends (or foes!)
inside
your Game Boy. What you see is where you are, as you team up, compete with each other or play alone against computer-controlled opponents.
Transport yourself inside the walls of
CyberScape
, a series of more than 70 treacherous mazes filled with tricks, traps and menacing enemies. Or, enter the
Arena
where "Have a Nice Day" takes on a whole new meaning in the fast-paced rounds of high-tech combat.
Wherever you go in FaceBall 2000, it's your chance to wipe the smiles off those annoying happy faces - and maybe a few of your friends - once and for all.
3D Graphics, First Person Perspective


Continuous 360° Maneuverability


More than 70 Levels of Challenging Mazes


Any Combination of 1-4 Players*