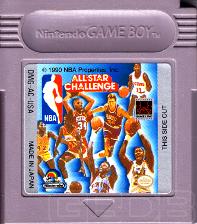 NBA All-Star Challenge
Publisher: LJN
Developer: Beam Software
Release Date: 02/01/1991
Variants: No
Part #: DMG-AC-USA

Genre: Sports
Players: 2
Multiplayer method: Game Link
Super GB support: No
Saves: None

Box back
Take it to the hoop basketball fans-with 27 of the biggest stars in the NBA, including the likes of Isiah Thomas, Charles Barkley, Patrick Ewing, Karl Malone and more.
5 exciting ways to play:
One-on-One


Free throw competition


H.O.R.S.E.


Accuracy shootout


All-Star tournament-see who's the best in the NBA!
If you've always dreamed of "shooting hoops" with the pros-crashing the boards, slamming one home, or winning the game with a 3-pointer-take the NBA All-Star Challenge.™
The ball's in your court!
Use the Game Boy Game Link for head-to-head B-ball action.