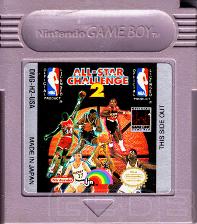 NBA All-Star Challenge 2
Publisher: LJN
Developer: Beam Software
Release Date: 05/01/1992
Variants: No
Part #: DMG-H2-USA

Genre: Sports
Players: 2
Multiplayer method: Game Link
Super GB support: No
Saves: None

Box back
"Jam it home" as one of 27 NBA All-Stars in the backboard shattering sequel to the best in NBA Game Boy hoops. It's a whole new ball game with the likes of Clyde Drexler, Dominique Wilkins, Chris Mullin , Hakeem Olajuwon, Dikembe Mutumbo and more!
SIX EXCITING HALF COURT GAMES!
SLAM DUNK COMPETITION


3 POINT SHOOTOUT


ONE-ON-ONE


FREE THROW CONTEST


ACCURACY SHOWDOWN


NBA ALL-STAR TOURNAMENT
Challenge your friends to head-to-head action with the Game Boy Game Link!