Tennis
Publisher: Nintendo
Developer: Nintendo
Release Date: 08/01/1989
Variants: Yes
Part #: DMG-TN-USA

Genre: Sports
Players: 2
Multiplayer method: Game Link
Super GB support: No
Saves: None

Box back
Tennis anyone?
Game Boy Tennis for realistic match play action.
You can try power serves, skillfully placed shots, lofty lobs, and killer cross courts. Umpire Mario will call the close ones!
So, get ready to serve, and match the baseline - it's Tennis, for everyone!
Challenge the Game Boy or use your Video Link™ cable to take on a friend in head-to-head competition.
Variants
Tennis has apparently only one variant, which is sort of odd for a launch era game. Most games of that time had a -1 designation when Nintendo got Game Boy reserved, instead of just trademarked. Tennis never received this update, despite selling over a million copies. Tennis' -1 was it's Player's Choice release.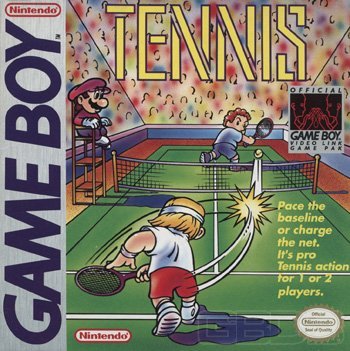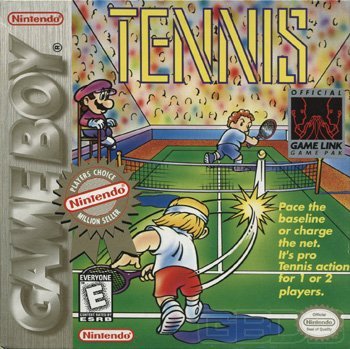 Here we see the typical Player's Choice badging; gold Game Boy stripe and medallion. The ESRB rating was also added. The last change is the new multi-player logo, which now uses Game Link, instead of Video Link.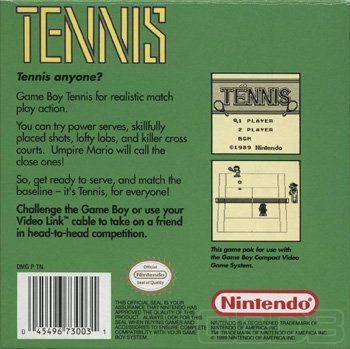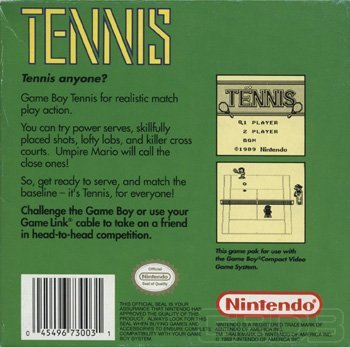 The box backs are even less different. The Player's Choice box drops the part number above the UPC and Video Link is changed to Game Link.
The rest of the box differences are the warranty panel was expanded and www.nintendo.com was added to the top flap. This box has the fewest changes I've ever seen, specially considering it was a launch game and sold so many copies. I guess Nintendo got it right the first time on this one.
The cart shows the greatest change, though it still only got the -1 designator when it was re-released as a Player's Choice. The Player's Choice cart changed the part number to the newer style, dropped the "Made in Japan" and added the Player's Choice medallion and ESRB rating. Scans are forthcoming, use your imagination for now..