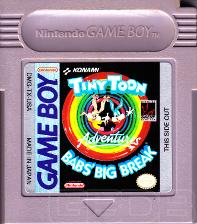 Tiny Toon Adventures: Babs' Big Break
Publisher: Konami
Developer: Konami
Release Date: 02/01/1992
Variants: No
Part #: DMG-TX-USA

Genre: Platform
Players: 1
Multiplayer method: NA
Super GB support: No
Saves: Passwords

Box back
BABS MAY BE A TOUGH ACT TO FOLLOW, BUT CATCHING UP WITH HER IS EVEN TOUGHER!
Babs dreams of making it BIG in the BIG city as a BIG star. She slips away on an adventurous downtown journey to the Acme Theater. Montana Max wants to turn the theater into a spectacular safe to show off his money, so he's out to bring the curtain down on Babs. Yikes! It's all up to Buster Bunny, Plucky Duck and Hamton to catch our favorite rising star before Monty catches her first! Join the zaniest star search to hit the Game Boy® screen and see Babs in her most thrilling role yet. Here's what the fans have to say:
"The Tiny Toon Adventures characters burst to life. It's like playing a cartoon!"

"There are oodles of oddballs at every turn who try to steal the show, like Elmyra and Arnold the Pitbull."

"Watch for secret hidden items and special appearances by Dizzy Devil, Furrball, Fifi, Shirley the Loon and more."

"Four levels carry you away to the Sure Weird Forest, Acme Looniversity, the Pipsqueak Pipe maze, the Groovy Train, creepy alleyways and secret underground chambers."

"The action never stops as you walk, jump, bounce, spin, glide and zoom away on your jet bike."

"Even the subgames are a hit, like playing Montana Mash and the "Race Against Toon" for special bonus prizes. Don't miss it!"

For 1 player.